Department of Architecture
Symbiosis of architecture and environment,Creation of safe and comfortable living space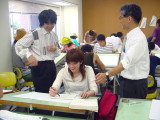 Architecture is eminently universal field of learning, concerning the creation of housing, architectural facilities, – basis of human life. In order to respond to both universal and up-to-date architectural problems, it is necessary not only to study basic fields of architecture (design and planning, structural engineering, environmental engineering) but also to synthesize them for spatial design problems. Department of architecture, Kobe University aims to produce talent who can correspond synthetically to contemporary architectural challenges by educating with specialty and synthesis.
Structure and Divisions
-Spatial Design Division
Synthetic and practical education and research for the creation of space:
Architectural and Urban Design, Housing and Community Design, Structural Engineering and Design Building Management.
-Architectural Planning, History and Theory Division
Basic education and research of the architectural design:
History and Theory of Architecture, Theory of Historical Environments, Planning Theory of Built Environment, Urban and Architectural Safety Planning.
-Engineering of Building Structures Division
Education and research for the safety of buildings in the case of earthquakes, improvement of building materials and structural systems:
Structural Performance Engineering, Structural Control in Dynamics, Structural Systems Engineering.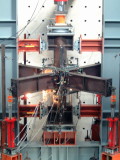 -Architectural Environmental Engineering Division
Education and research on analysis, control and planning of architectural and urban environment:
Planning of Acoustical and Lighting Environments, Thermal Environmental Planning, Planning of Urban Environment and M & E Services.
-Disaster Mitigation Planning Division
This division aims to conduct practical research on a system that can respond precisely, and in a practical and effective manner, to natural disasters such as earthquakes and typhoons as well as other emergencies.
-Sustainable Living Environmental Design
(SEKISUI HOUSE)
Sustainable Living Environmental Design Program aims to conduct practical research in the field of architecture, housing design, interior, and landscape design. Main goal of program is to seek creative ways of integrating safe, healthy, sustainable and livable environment with multidisciplinary team members.
Message for International Students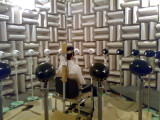 As well as students from Asian countries such as China, Korea, Vietnam, Malaysia, and Indonesia, students from Western countries are studying in this department.
Undergraduate program starts with liberal arts and basic subjects on natural and information science, succeeded by basic and applied subjects of architecture extending over design and planning, structural engineering and environmental engineering, and continues to synthetic and practical spatial design education.
Master program aims at acquirement of higher knowledge of design and planning, structural engineering and environmental engineering. And at the same time, training for deducing specific answer to spatial and temporal design problem.
Doctoral program aims at construction and cultivation of theory associated with design and planning, structural engineering and environmental engineering to produce international talent who provides sophisticated special knowledge.
Education/Research Fields
Divisions
Education/Research
Fields
Keywords
Spatial Design
Architectural and Urban Design
Architectural Design, Theory of Spatial Composition, Theory of Modern and Contemporary Architectural Design, Urban Theory, Urban Space Policy, Urban Planning, Urban Design, Theory of Urban Landscape, Urban Development and Improvement
Housing and Community Design
Theory of Human Habitat, Housing Design & Planning, Community Design, Community Development, Citizen Participation, Sustainable Development, Landscape Design, Environmental Design
Structural Engineering and Design
Building Structural Design and System, Frame Analysis & Design, Performance Based Design, Total Seismic Safety for Buildings, High-rise Building & Long Span Structures, Buckling Restrained Braced Frame, Passive Controlled Structures, Semi-Active Controlled Structure, Earthquake Resistance/Control/Isolated Structure
Building Management
Fracture Process of Material, Mathematical Modeling of Structural Element, Steel Concrete Composite Structure, Retrofitting of Damaged Structure, Repair / Rebuilding of Building, Life-Cycle Assessment of Building, Recycled Concrete
Architectural Planning, History and Theory
History and Theory of Architecture, Theory of Historical Environments
History of Japanese architecture, History of western architecture, History of modern architecture, Architectural theory, Preservation of historic architecture
Planning Theory of Built Environment
Housing Planning, Regional Planning, Living Environment, Community, Dwelling Policy
Urban and Architectural Safety Planning
Urban Safety Management, Natural Disaster, Fire, Evacuation, Human behavior, Universal Design, Condominium, Security Environment, Defensible City, People with Special Needs in Emergency
Engineering of Building Structures
Structural Performance Engineering
Steel Structures, Steel-Concrete Hybrid Structures, Reinforced Concrete Structures, Structure Analysis, Mechanical Behavior, Seismic Performance, Seismic Retrofit, Earthquake Response Control Techniques, High-Strength Materials
Structural Control in Dynamics
Control of dynamic response of structures, Dynamic response of buildings and space frames, Dynamic response of offshore structures, Earthquake resistant design of structures, Soil-structure interaction, Liquid-structure interaction
Structural Systems Engineering
Intelligent control system of buildings, Ubiquitous information system of buildings, Optimal structural planning of buildings, Non-linear analysis of structural systems, Structural simulation system of buildings, Building system harmonized with global environment, Circulation-type building system
Architectural Environmental Engineering
Planning of Acoustical and Lighting Environments
Design of acoustic environment in buildings, Room acoustics, Barrier free acoustic environment, Noise control, Acoustic materials, Sound insulation and absorption, Design of lighting in buildings, Lighting and color studies for built environment
Thermal Environmental Planning
Heat Transfer, Ventilation, Simultaneous Heat and Moisture Transfer, Fluid Dynamics, Condensation, Building Material, Fire Safety Engineering, Smoke Movement, Energy Conservation, Thermal Comfort
Planning of Urban Environment and M&E Services
Urban environmental planning, Urban heat island, Urban environmental climate map, Surface heat budget, Green roof, Environmental service systems, Energy saving, Heating, ventilating, and air conditioning, Hot water supply system, District heating and cooling systems
Disaster Mitigation Planning
Cooperative education and research with National Research Institute of Fire and Disaster
Sustainable Living Environmental Design
(SEKISUI HOUSE)
Sustainable environmental design, Ecological architecture and landscape, livable environment, Sustainable residential planning, Community safety, Prefabricated house design